ALICE at MilanoDesignWeek 2023 with "ARGENTO"
From 17 to 23 April Alice inaugurates her Milanese space of INSULA DELLE ROSE in the heart of Brera with a futuristic installation by Leonardo Talarico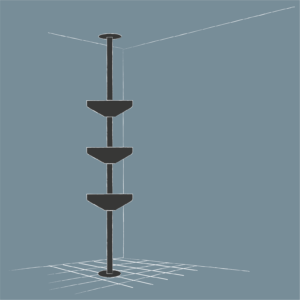 "Argento" is the futuristic concept chosen by Leonardo Talarico for the debut of Alice Ceramica in his new showroom in Milan, in the very central Brera district, a hotbed of innovation, trends and design.
An exclusive showroom in Via Goito 3, in which, starting from 17 April and permanently after the conclusion of the Salone del Mobile, the collections of Alice, the recent protagonist of a rebranding that makes her recognizable in the panorama of the production of washbasins and new generation sanitary ware.
The protagonist of the Fuorisalone which will take place from 17 to 23 April 2023, will be the ToTem installation by Alice with the ceramic washbasins from the Equilibrium collection, designed by Massimiliano Braconi, in the total matt black color version. A metal rod welcomes the conical geometries of the innovative washbasins which – with a base of just 10 cm – present themselves as a sophisticated technological object, challenging the laws of stability and proportions never seen before in ceramics.
Superimposed in a rigorous geometric order, they transform their original function of everyday objects to become emblems full of meaning. Immersed in a suggestive environment completely dominated by silver, they become a symbolic installation, a messenger of values: purity and truth, justice and temperance, synonymous with balance. The installation evokes water, the most precious asset that gives life, to which we must do justice by preserving it.
With ARGENTO the material has become a symbol, the object has been transformed into a message: a totem is a spiritual being, a sacred object like the evoked water from which the world of Alice Ceramica owes its mission.